Triple Pocket Holdem Poker - Play Video Poker
Triple Pocket Holdem Poker Review & Experience
Texas Hold'em is considered the most popular poker variation around the world, so there are a lot of online versions of the game. But there are few online versions that every gambler should try — they provide excellent graphics as well as an enjoyable gaming experience. Triple Pocket Hold'em by Microgaming is one of such games. So, if you are interested in poker, read this Tripple Pocket Hold'em Review — we will take a detailed look at all aspects of this video poker game.
Tech Info
Triple Pocket Holdem Poker is a poker variation developed by Microgaming, one of the most renowned providers. It is played with a standard deck of 52 cards, so there are no Wild cards. Unlike standard poker, this game has simpler rules, making it ideal for novice players. You just need to select the betting amount and after that, you will get 2 cards — your task is to solve whether hold or deal again the cards. This game features a considerable RTP of almost 98%. This means that you will have plenty of chances to win a decent amount of money.
Players have an opportunity to choose the bet amount in a wide range from 1 Australian Dollar to 20 Australian dollars. Thanks to this, the game is suitable for everyone since all players can select the preferred bet amount.
To win in the round, you need to get a better combination than 2 other players. If you manage to do this, you will be paid according to the paytable. For high card, pair, two pairs, and 3 of a kind, you will get 1x of the bet. Flush is a more rewarding combination and it pays 2x. For a full house, you will get 4x, four a kind — 10x, and straight flush — 20x.
You don't need to remember all the combinations because there is a paytable — click on the game rules button, and you will see all the rules in the game. In addition, you will be able to play a demo version of Triple Pocket Holdem Poker. This game doesn't require registration or making deposits, so it's a great possibility to improve skills and develop a strategy.
Game Features
Triple Pocket Holdem Poker doesn't provide a lot of unique features, and you won't get bonus rounds or free spins as in video slots. At the same time, the double-up feature, which is pretty common for video poker, is also absent.
While playing this game, you will notice that the rules are slightly different as they are in standard poker. For example, here you can drop the combination of cards in order to get a chance to receive a more profitable one. In addition, 5 cards are placed on the table at once, and you immediately see the result of the round. This makes the gameplay more dynamic, which of course will appeal to many players.
Game Plot
Triple Pocket is a very interesting game that combines fast-paced gameplay of online slots and the tactical element of classical poker. To start the round, you need to choose the amount of the bet. It should be noted that the betting range is quite wide — you can bet from 1 AUD to 200 AUD. After choosing the amount click on the Deal button and you will be dealt two cards. Now you need to decide whether keep or drop these cards.
If you want to create a better combination, then click the Deal Again button and the cards will go to the dealer, and you will get new ones. To hold the cards click the Hold button. Essentially, this is the only decision you need to make — the flop, turn, and river are laid out on the table, and the best combination is determined. As with all casino games, winning in Triple Pocket Holdem Poker depends to some extent on the luck of the draw. At the same time, it depends on your decisions as to whether to keep or drop the cards. For example, A good rule is to keep the cards if they are a pair, of the same suit, and of consecutive numbers.
Talking about the visual component, the interface of the game looks rather outdated. Despite the overall simplicity, you can notice some modern visual effects. For example, there are some animations that make the gaming process more interesting.
Conclusion
Triple Pocket Hold'em Poker is a quite interesting game that сombines the gameplay video slots and classic poker. Your win depends not only on luck but also on the skills and tactics chosen, so you will be able to increase your winnings. Therefore, we recommend this game to try playing it, especially considering the fact that it has a very high RTP, a friendly interface, and a wide betting range.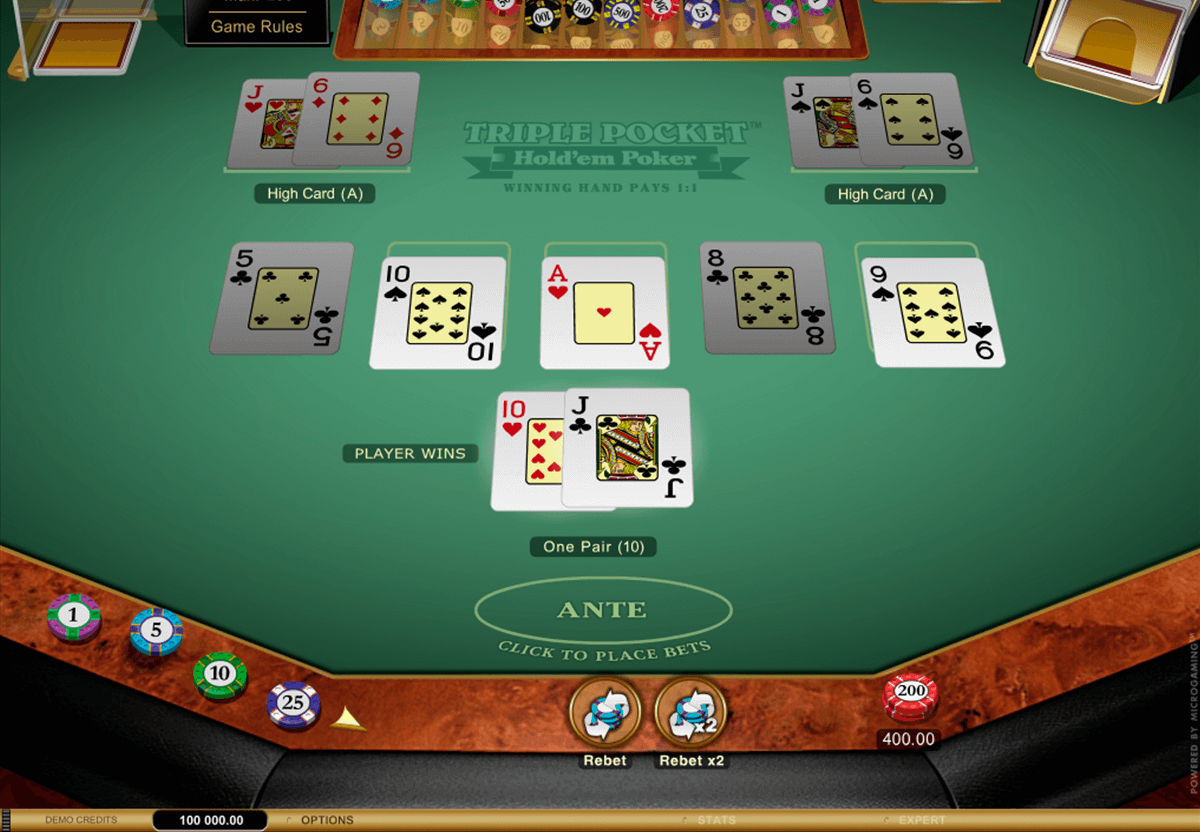 Play Triple Pocket Holdem Poker in Casino for Real Money
Advertising Disclaimer
CasinoHEX is an independent review service that aims to provide you with a detailed examination of leading gambling sites. Featured sites are led by our partners who contribute to our business, so CasinoHEX gets its income through the commissions. Users are not charged by CasinoHEX. Commissions that we receive for marketing brands do not affect the gaming experience of a User. However, CasinoHEX provides only unbiased reviews, all sites selected meet our rigorous standard for professionalism.
Most played Microgaming Video Poker